Graphic designer.
Rimma Ismailova
Chief Designer & Project Manager
riart
The design of any business project requires artistic talent and specialized technical knowledge. Only when good taste and a sense of harmony are combined with experience and constructive skills can a quality result be expected. I am ready to bring to life any of your ideas and create a unique corporate image that will lead to success! 12 years of experience / 500+ completed projects / Hundreds of satisfied customers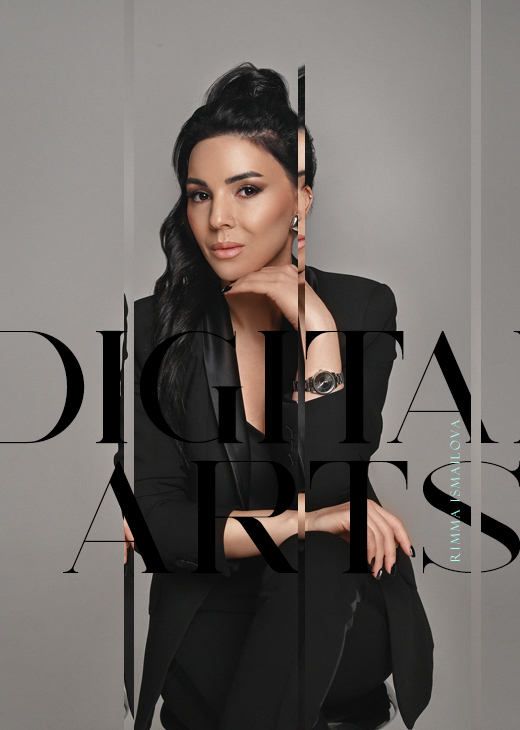 Is a graphic designer a creative person or a technician?
From the name many people may think that if there is something related to graphics, then most likely it's something like an artist in a modern way. In fact, on the Internet all is not much like in real life, so a graphic designer should be able to combine not only the graphic side of the profession, but also some technical aspects.
Our expert team with specialized artistic and design knowledge. We develop everything – from printing and corporate identity to web banners, presentations and websites. Each business project in our execution takes on individuality. It becomes recognizable and profitable. And this is all thanks to the non-standard design approach and the flight of creative thought.
Many years of experience in my field allows me to fulfill orders on time, without refusals and with minimal corrections. During the 12 years that I have been doing design, I have earned the trust and appreciation of hundreds of entrepreneurs from different parts of the country.
I came into this area when Russian design had already proved its own originality, when novice specialists already had someone to focus on. We did not find the chaos that was observed in the late nineties and early 2000s in the ru-segment of the Global Web. Therefore, we could clearly formulate goals and principles on which our activities will be based. The main thing for me was to work in such a way as to receive not only material satisfaction. Perhaps that is why I chose website design as my profession. Any project in this area can be made unique. And for the team I selected the same enthusiastic people who do not need additional motivation, who love their job.
An important revelation for me was the realization of the fact that design is not only and not so much the development of the graphic component. An effective, convenient and beautiful site or application is the result of a systematic, comprehensive work of a whole team of specialists. And in the design itself there is so much that you have to devote a lot of time to self-development, to master new technologies so as not to be left behind. Judge for yourself: by the word "design" people can understand how the production of the simplest leaflets, posters, and complex three-dimensional animation, videos, websites. And all this can be required by the business, and for all this I tried to take on, which makes me a universal designer.
At first, I tried to supplement my knowledge in the field of graphics by delving into marketing, writing texts, and began to understand programming and promotion. Then I realized that in the modern world it is impossible to be a "multi-machine". It is impossible to know everything even at an intermediate level. That is why I thought about the selection of the team. This is how our studio was born, where now a small number of people work. I continue to do design, manage projects.
Work and the desire to always find something new are well rewarded. Starting from small, developing, we were able to move to a new level of work, relied on the most progressive methods in design. This approach allowed us to focus on the most interesting orders, the implementation of each of which is a real challenge both for me personally and for all the specialists of our studio. Our team created stylish, strict websites for political parties, implemented bright, image projects for show business stars and large companies.
Today we offer our clients unique, interesting solutions that correspond to advanced technologies in the field of design, programming, and commercial writing.
Riart is your trusted companion for visualizing business ideas!
Features graphic designer
Being able to work on the appearance of the site is not all a good designer should be able to do. He should arrange all the components so that the user can easily navigate in the space of the site and quickly find the information he is interested in. Even he should present in advance how the site will look like on different devices, from which users can get to him. One of the hardest things to do is not to be able to touch your work. It can only look at her from the monitor screen. Because of this programmer, the designer must first take into account and think about all the details and nuances, and only then take the job itself as a whole. Revision of the site with its errors after it appears on the Internet, not the best way to reflect on the reputation of the specialist.
To date, the designer of the website as a profession is quite in demand. In this age of digital technology is difficult to imagine more or less a major company without its own website. Even small firms are puzzled about their own site, as their face on the network. This explains the numerous offers in the exchanges about the willingness to make a website for you.
The professionalism of the graphic designer in everything
A freelance designer with enough knowledge and experience will be able to make a good working website. But to find such a person as a remote designer? Agree, it can be extremely difficult. The web designer's site should be present, as it serves as a portfolio. Even if you visit the official website designer (if any) and you are all built there, your order may still be stalled because of other difficulties.
Website designers will show that they can handle difficult tasks, and they cope with them, but here's how much time they spend on this, how long will fill the site with content, how successfully they will be able to correct errors in the code for the site, how well they know how to communicate with customers? You see, a freelance web designer has to be simultaneously a creative person, a programmer, a negotiator and a bit of a psychologist.
About me I want to add that I am a designer Rimma Ismailova, web designer, working in the studio "Riart" to develop and promote sites of varying complexity. We work as a team of qualified specialists and that is why in case of any difficulty we solve it together. Though each of us has his own direction of work, but all the areas in the creation of the site overlap in one way or another, so we not only understand their areas, but can help each other, if necessary. Our website is the development, design and promotion of your dreams. Our main goal as a graphic designer is to advertise to the world your goal so that it will be recognized by everyone and always.
He who does no more than what he is paid for will never get more than what he gets! You have to be able to do it equally well for 100 rubles and for 100 thousand, because it is not money that motivates, but your reputation.